How to Grow an Herb Garden in an Apartment
Did you know that
35% of U.S. households
grow edible plants? Whether you have a balcony or a patio area, or even if you're renting a home, having an herb garden in your apartment is easier than you might think. Growing fresh herbs in your apartment is not only a great way to have access to new and delicious ingredients, but it also adds a bit of greenery to your space. In this article, we'll provide you with some useful tips and tricks on how to have an herb
garden in an apartment
.
Read on for everything you need to know.
Why Grow an Herb Garden in an Apartment?
Before we get started on how to grow a herb garden in an apartment, let's take a quick look at why it's worth the effort.

1. Fresh Herbs at Your Fingertips
When you grow your own herb garden in your apartment, you have easy access to fresh herbs whenever you need them. This is particularly useful if you love to cook and want to add a bit of flavor to your dishes.

2. Saves Money
Buying fresh herbs from the grocery store can be expensive, especially if you need a specific type of herb that's not in season. By growing your own herb garden in your apartment, you can
save money on your grocery bill
.

3. Aesthetic Appeal
An herb garden can add a touch of greenery and life to your apartment. It's a great way to decorate your space and create a cozy atmosphere.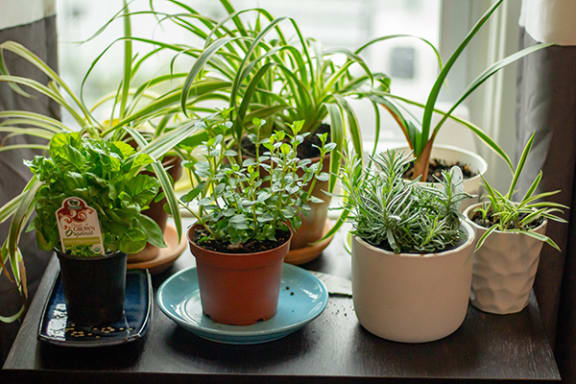 Types of Herbs to Grow in an Apartment
If you want to start a herb garden, it's important to choose plants that are suitable for an indoor or balcony environment. Here are a few herbs that are well-suited for apartment living:
Basil
Basil is a popular herb that's relatively easy to grow indoors. It requires six to eight hours of sunlight per day, so placing it near a sunny window is ideal.
Chives
Chives are easy to grow and don't require as much sunlight as some other herbs. They add a delicious oniony flavor to many dishes.
Parsley
Parsley is a leafy, versatile herb that can be used in many different dishes. It grows best in a bright, sunny location, but it can tolerate some shade.
Rosemary
Rosemary is a hardy herb that's great for indoor gardening. It prefers a sunny location.
Thyme
Thyme is a delicious and low-maintenance herb that's perfect for apartment living. It can thrive even in partial shade.
How to Have an Herb Garden in an Apartment
Now that we've learned a bit more about herb gardens let's get into the details of how to grow one. Here are the main steps:
1. DETERMINE THE BEST SPOT FOR YOUR HERB GARDEN
The first step to having an herb garden in your apartment is to determine where you want to place it. Look for a spot that gets plenty of sunlight, as most herbs need at least 6 hours of sunlight each day. A balcony or patio area is a great location, but if you don't have one, you can place your herb garden on a windowsill that gets a lot of sunlight.
2. CHOOSE THE RIGHT HERBS
When it comes to choosing the right herbs for your apartment herb garden, you should consider what you like to cook with. Some herbs that grow well in apartments include basil, thyme, parsley, mint, and chives.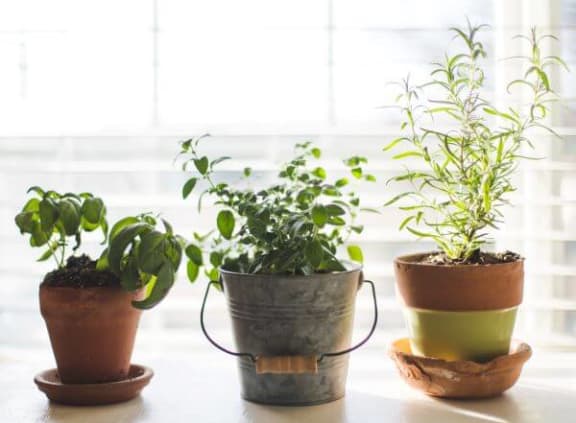 4. PREPARE THE SOIL
Once you've chosen your herbs and container, it's time to prepare the soil. Use high-quality potting soil and add in some organic matter, such as compost or aged manure, to provide nutrients for your herbs.
5. PLANT THE HERBS
Plant your herbs in the container, making sure to follow the instructions on the seed packet. Most herbs need to be planted about 6 inches apart, and you should water them immediately after planting.
6. WATER AND CARE FOR YOUR HERB GARDEN
Regular watering is essential for your apartment herb garden. Be careful not to overwater, as this can lead to root rot. Most herbs like to be kept moist but not wet. You should also fertilize your herbs every few weeks to provide them with the necessary nutrients.
7. HARVEST YOUR HERBS
Once your herbs have grown, you can start harvesting them. Use them fresh for a burst of homegrown flavor, or dry them for future use.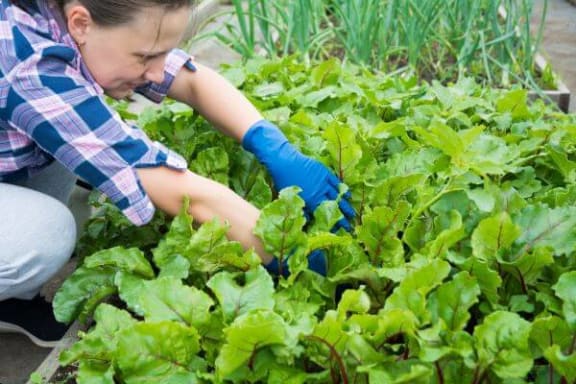 HOW WE CAN HELP
Are you in search of a Wichita rental property that offers the perfect balance of comfort and functionality? Our properties boast balconies and patios that are just begging to be transformed into the herb garden of your dreams. Imagine stepping outside and picking fresh herbs to add to your favorite dishes. It doesn't get much fresher than that! But our properties offer so much more than just herb gardens. Our spacious and modern units come equipped with ample storage space and all the amenities you need to make yourself right at home. Plus, our team of dedicated professionals is always on hand to ensure that your experience in our properties is nothing short of exceptional.
SAVE MONEY AND ADD GREENERY TO YOUR SPACE WITH AN APARTMENT HERB GARDEN
Growing an herb garden in your apartment is a great way to have fresh and delicious ingredients at your fingertips, save money, and add aesthetic appeal to your space. To start an herb garden in your apartment, simply choose a sunny spot, select the right herbs, choose a container, prepare the soil, plant the herbs, water and care for your garden, and harvest your herbs. You'll be enjoying the homegrown flavor in no time! Contact us at The Club at Cherry Hills to find the perfect Wichita rental property for your dream herb garden and comfortable living experience.